Course details
Early summer! Special price 3500 yen for sea bream course !! ※ Seat selection · Friday not available.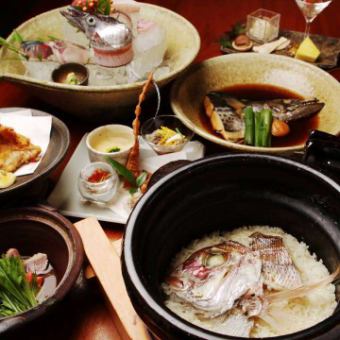 By using a coupon3500 yen
Tax excluded · 1 person
Reservation deadline

Until 21:00 on the day before the desired store visit
★ Enjoy a special Taikeni course of Ginpei and survive the hot summer ★
※ The reception on TEL at TEL is possible.
※ Private room commitment is not made even if a private room is chosen by seat selection.
※ Available except Friday on weekdays.
※ Although it is OK on that day, reservation for advance course is essential.
※ This course will not be sold in December
※ This course can not be specified for your seat, please reserve on your prior acknowledgment.
※ Other services · Can not be combined with coupons etc
* Seats may be asked in two hours, please reserve after consent beforehand.
Course menu
※ From 14 o'clock on the day can be accepted at TEL
· Assorted appointment
· Assorted sashimi
· Boiled fish or charcoal grill
· Freshly made homemade tofu
· Entering the large shirasabu
Fried Tiannian Lara's bean paste saucepan
· Specialty sea bream
Bowls · Aroma
· Water (dessert)
※ This content is subject to change due to purchase situation etc.
Please note.
Coupons that can be used with this course
2018/12/07 update