Course details
Course with unlimited drink upgrade course 8000 yen (for 4 people)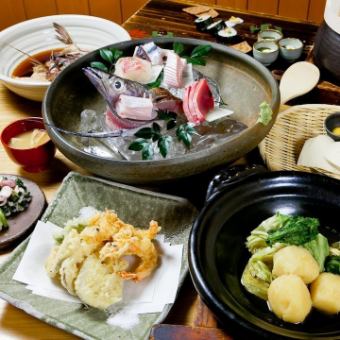 By using a coupon8000 yen
Tax included per person
Reservation deadline

Visit of hope the day before until 21:00
★ It is a very profitable course with all-you-can-drink on Nanpei's sashimi platter, seasonal dish items, specialty "Tin Misashi".Please also use it for wedding party etc.
※ Reservation required by the day before
※ Thank you for over 4 people.
※ There is the case that the course content is subject to change by buying situation.Please note.
※ If you get crowded, I'm asking in 2 hours.
※ If it is not jammed it can be used after 2 hours.
Course menu
· Five kinds of seasonal addition
· Ginpei soup making platter
· Boiled fish or charcoal grilling
· Main dish of the day
Small bowl material
· Tempura Assorted
· Specialty Braised Bowl · Aroma
* Only when you say "Soy Sauce Hope" at the time of reservation phone call, present as a souvenir soy sauce "pole" when present.
★ All-you-can-drink hours 90 minutes Last order 30 minutes ago ★
· Beer · SAPPORO · Sapporo black label (medium bottle)
· Shochu (potato / wheat) · rock · water split · hot water split
· Japanese sake · Ozeki · Shuzai · Chilling · Ambient temperature
· Chuhai · Lemon · Grapefruit · Calpis
· Wine · red wine · white wine
· Plum wine · rock · water split · soda split
· Whiskey · Highball · Water split
· Soft drink · Oolong tea · Orange · Gingeraire · Calpis
Coupons that can be used with this course
2018/09/26 update